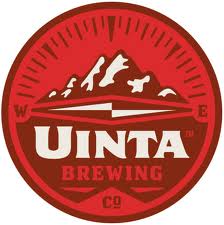 Uinta Brewing
Salt Lake City, UT
Uinta Brewing Company embarked upon its mission of brewing world class, full-flavored, craft-brewed beer in the winter of 1993. From a small, renovated mechanic's garage located in Salt Lake City, Uinta began distributing a tasty variety of beer ranging from 4.0% to over 10% alcohol by volume to local bars, restaurants, and liquor stores. Demand escalated, resulting in the installation of a bottling line in 1996. Then, in 2001, having outgrown its original building, Uinta built and relocated to a 26,000-square-foot facility, pictured above, specifically designed for brewing beer.
Uinta Brewing is named after an east-west mountain range located in northeastern Utah. Many of Uinta's beer names are inspired by Utah's diverse landscapes or have historical significance. Cutthroat Pale Ale, Uinta's flagship beer, is named after Utah's state fish. Subsequent beer names followed suit, such as King's Peak Porter, named after Utah's highest peak, Golden Spike Hefeweizen, named after the spike used to commemorate the completion of the transcontinental railroad in Utah, and Dubhe, named after the Utah Centennial star.
In desire of creating a different experience in beer, Uinta launched its Crooked Line in 2010. These beers were dubbed "big beers" both in taste, alcohol content and size of bottle. Crooked Line beers are packaged in 750 ml bottles and are cork finished. Ranging from 9 to over 13% alcohol by volume, the intention was that these beers would be shared, as one would a bottle of wine, with friends and paired with food. Some beers are aged in oak, whiskey or bourbon barrels for up to six months prior to reaching the market. Knowing that each beer was quite different from the next, it was essential that each brew showcased its individuality outside the bottle as well. Uinta sought the talents of local artists to design the labels, assuring that each style was unique in packaging as well as in style and taste.
The launch of the Crooked Line was quickly followed by the grand opening of the Little Big Beer Store—an on-site store selling higher alcohol content beers—refrigerated! Inspired by an upcoming 20th anniversary, Uinta Brewery sought a fresh approach in showcasing its products while maintaining the classic Uinta feel which reflects an appreciation for the outdoors and characteristics of the mountain west. Uinta Brewing spent most of 2010-2011 going through a massive redesign of its logo, labels, all packaging and its bottle. The process enabled Uinta to clearly organize and define three lines of beers under the Uinta Family: The Classic Line, Organic Line and Crooked Line.
Uinta designed a custom, proprietary 12 ounce bottle as part of the redesign project. Referred to as the "compass bottle," the new bottle shape is branded by a 360-degree compass embossed into the bottle's shoulder. The upshot? You'll never get lost with a Uinta bottle in hand! Naturally, adopting the custom-shaped bottle gave rise to the need for a substantial investment in new bottling line equipment.
The redesigned logo embodies the uniqueness of the company's namesake, the Uinta Mountains. A compass is integrated into the logo with the needle pointing East-West, referencing the only major range facing East-West in the continental U.S.. The compass also speaks to Uinta's sense of exploration and direction as Uinta consistently strives to brew the best beer possible. "Earth, Wind and Beer" remains part of the logo referring to Uinta's long-standing commitment to environmental stewardship. A separate renewable energy logo has been added to packaging as Uinta Brewing has become both wind and solar powered!
Since 2001 Uinta Brewing has been 100% wind-powered, becoming the first Utah company to reach this mark. In an effort to continue its commitment to using renewable resources, Uinta Brewing installed solar-electric paneling on the brewery's roof in 2011. Please visit our Business Practices page for more information.
Uinta beers have received awards and medals from regional, national, and international competitions, including the North American Beer Awards, World Beer Cup, and Great American Beer Festival. We are also proud to have a loyal local following who share their personal stories about Uinta beer and who regularly visit us to have a pint. Thank you!
Uinta is committed to brewing world-class beer using the best practices and ingredients. Uinta Brewing Company is also proud to be an OU Kosher certified company producing kosher certified products.
Uinta Brewing is a proud Utah company serving world class beers to good people in better ways.