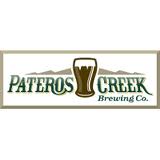 Pateros Creek Brewing
Ft Collins, CO
What's in a name?
Pateros Creek Brewing
(Puh-Tar-Os) got its name from the iconic Cache la Poudre River that runs through the City of Fort Collins and throughout Northern Colorado. Pateros Creek is said by local historians to be the original name of the Cache la Poudre River.
Craft beer is vibrant in Northern Colorado and we will add our refreshing take on some familiar styles as well as push the limits of what you know and love about craft brews.
We are focusing on local history and local ideals to bring forth some new styles that speak to the community. Whether you need a quaffing beer to pass away a lazy afternoon sitting on a patio in downtown or you want to expand your ideas of what a great beer can be and share it with friends, Pateros Creek Brewing will satisfy your palate.
Now that we have our feet off the ground with our flagship Cache la Porter, keep your eyes peeled for more tasty brews to follow. After that, all bets are off as we invite you to explore the amazing world of craft beer with us.