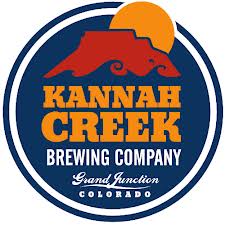 Kannah Creek
Grand Junction , Colorado
Kannah Creek Brewing Company is locally owned and operated and located in Grand Junction, Colorado. Since opening the brewpub doors in 2005, we continue to take great pleasure in creating top quality craft beer and food with an emphasis on hospitality that we know you will enjoy and keep coming back for more. Its welcoming and casual atmosphere, where friends and families can gather and feel at home, is why they call "The Creek" your neighborhood brewpub!
As the demand for our beer grew, we opened a second location, Edgewater Brewery, in May 2013. Located in the south downtown area of Grand Junction, "The Edge" features a production facility along with a tap room & grill. Here we brew, bottle, and distribute Kannah Creek Brewing Company's three flagship beers including the award-winning Lands End Amber Ale and the Standing Wave Pale Ale. Plus our newly added mainstay bottled beer the Broken Oar IPA. As well as a rotating line of seasonal beers offered throughout the year. The Edge has a great outdoor venue with beautiful views to enjoy while sipping on a cold one or having a bite to eat. Each location offers the same great beer, same amazing service, but just to keep things interesting, different menu options.
So whether you make the Grand Valley home or are just passing through, please stop in and join us for a bite and a pint. We'd love to meet you.
Thanks from the crew at Kannah Creek Brewing Company and Edgewater Brewery!