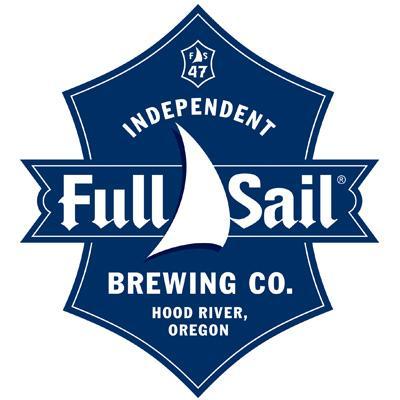 Full Sail
Portland, Oregon
Look down. Candy-colored sails skim the Columbia like swarms of graffittied dragonflies. Look out. Snow-topped volcanic peaks descend into wildflower meadows, merge into evergreen forests, then abruptly stop at vertical basalt cliffs punctuated by pencil-thin waterfalls. Look up. Dry blue skies deliver the scent of ponderosas baking in the summer sun.
Sitting on the deck of the brewery here in Hood River on a brilliant August day never ceases to make us eternally grateful for every moment we get to spend in this amazing place. A little town full of blossoming fruit orchards and postcard-quality roadside stands, where every summer a landlocked surf town magically emerges from its winter ski-village cocoon.
Obviously, it's not hard to figure out what attracted us to this setting. Then again, if you'd stood in this very same spot back in 1987, on the day we first laid eyes on our future brewery, you might not have noticed the sails or the waterfalls or the cute little town that was suddenly attracting windsurfers from all over the world. No, standing in what was then old Diamond Fruit cannery, you would have been preoccupied with other thoughts. Like wondering how time had somehow stopped, Twilight Zone style, circa 1972.
A Labor of Love
The cannery had pretty much laid abandoned and derelict for 15 years, frozen in a kind of fruit-tinged Technicolor funk. And, while the workers were long gone, their dusty girlie calendars and magazine clippings still clung to the walls, witnessed only by the resident pigeons and passing seasons.
We knew it was going to take a Herculean effort to turn this place into a brewery. But we felt the potential that day in '87 — like we were setting out on an adventure, determined to create something new and wonderful.
And with that, we put a down payment on the haunted Technicolor pigeon cannery, set about converting the apple juice press room into a brewhouse, and began working night and day to turn a romantic notion into a bonifide brewery, which at the time was named Hood River Brewing Company.
Full Sail Ahead
Much has been written about the day you drive off the lot in your first new car, but let us tell you, there's nothing quite like taking delivery on your very first, brand new stainless steel mash tun. (Woo hoo!)
Determined to make world-class beer in our own backyard, one of our first, and perhaps best, decisions was to invest in new, state-of-the-art brewing equipment. Other micros had been brewing with varying degrees of success in open fermentation tanks or old, cast-aside dairy equipment. But we weren't taking any chances: the beer had to be great or there was no point in brewing it. So we bit the bullet, laid down our borrowed cash, and spent the better part of 1987 installing the new system.
By September, we had our first crew on board – a classic mixture of beer geeks and boardheads – and we were ready to brew. Yeah, our operation was tiny and the work was nonstop, but to be in Hood River at the forefront of not only the craft beer movement, but also the rise of windsurfing, was thrilling. Microbreweries were springing up all over the Northwest. The windsurfing craze was in full swing. Hood River's storefronts were filling up with gear shops. And we put up a whopping 287 barrels that first year. Things were really humming.
Message in a Bottle
Stoked at our success in getting the brewery up and running, the next year we set our sights on yet another goal — something the beer litterati said was next to impossible: Putting our microbrew in a bottle.
Our original bottling line was this cute little red Italian job that we nicknamed Mimi. Designed to bottle still wine — a whole different beast than carbonated ale — Mimi proved to be every bit as temperamental and capricious as you'd expect an Italian prima donna to be. What's more, Mimi was a manual bottling line. Every operation had to be done by hand. (Picture Laverne and Shirley and you begin to get an idea of what a day with Mimi was like. Only minus the comedy.)
Nonetheless, with Mimi's help we succeeded in putting our beer into bottles, simultaneously silencing the critics and making great beer as close as the corner store for the first time in generations. Not long after, our Full Sail Amber became our best-selling beer and garnered us our first heavy metal: A gold at the 1989 Great American Beer Festival.
Same as it Ever Was
We don't bottle our beers using Mimi anymore (thank God) and kiteboarders now outnumber the sailboarders in the Gorge, but a lot of things have remained the same around here. We still craft all our beers by hand, in one of the few manual brewhouses of its size in the country. Our hops and barley still come from trusted local farms. Our water, from a spring on Mount Hood.
And we continue to do whatever we can to be sensitive to the environment that lured us to this amazing place: By operating our own award-winning water treatment plant; distributing our spent grain to nearby farmers; using a sustainable filtration system; packaging our products in recycled paperboard; and becoming a founding member of the Hood River Greensmart taskforce. We love our community. So we support over 300 events and charities each year, with a focus on those in our local area. Our most significant commitment by far, however, came in 1999 when our little brewery reached a turning point.
For years, we'd been thinking and talking and dreaming about the idea of becoming an employee-owned company. So many people had put so much work and love and dedication into Full Sail, and we wanted them to share the same pride of ownership we did. But that's not the whole story. The reason we started Full Sail in the first place was to build a company that was completely different from the ones where we'd previously worked. It wasn't about business as usual. It was about finding our calling in life — about truly appreciating our "human resources," and balancing work, life, family and friends in a way that makes life truly worth living. It was in that spirit that we became an independent, employee-owned company in 1999, divvying up the company between the 47 of us. Of all our accomplishments, this is the one that makes us most proud.
Stoked to Brew.  Brewed to Stoke.
So here we are. Ever humble, ever grateful, ever amazed that we got here in one piece. Still a mix of beer geeks and boardheads (not to mention mountain bikers, surfers, Ultimate fanatics and powder hounds). Still independent. Still trying to find that perfect balance between art and commerce, work and play, inspiration and perspiration. Thanks for reading. And next time you're in Hood River, stop by for a beer.
— The Full Sail Crew
Full Sail

0307 SW Montgomery
Portland, Oregon 97201
Phone: 503-222-5343
Email: http://www.fullsailbrewing.com/contactus.cfm
Website: http://www.fullsailbrewing.com/