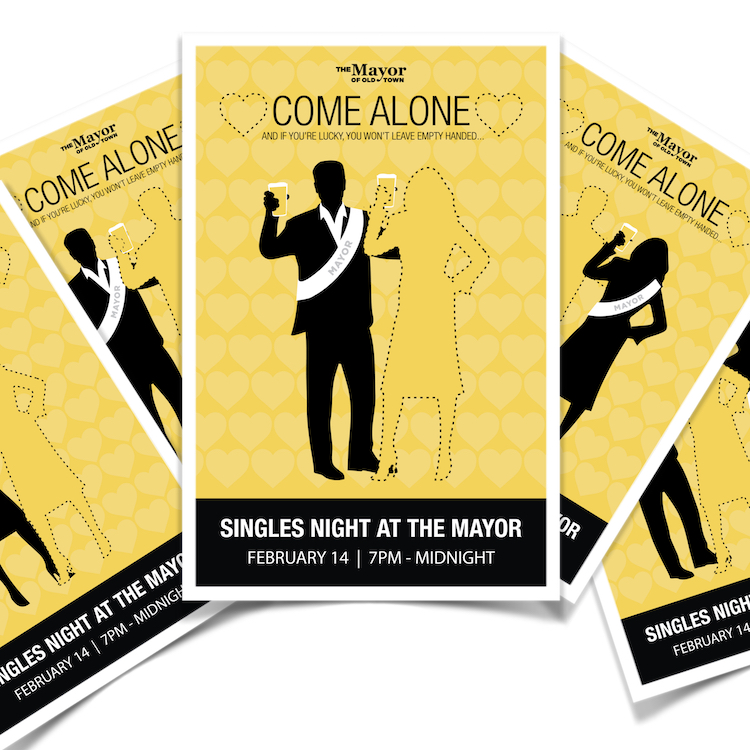 Come Alone Single's Night
February 14, 2018 — 7pm
When: Wednesday February 14, 2018, — 7pm
Event cost: Free!
Don't have a date for Valentine's Day? Don't worry! We invite you to our 4th Annual 'Come Alone Valentines Day Bash'. (No Cover!).
Sip on some tasty V-day themed brews and cocktails while scanning the room for your perfect match. Someone catch your eye? We'll have valentines you can fill out to send to the other tables via our lovely staff!
We will be tapping these specialty beers tomorrow for our Come Alone Vday Party!
A Dozen Roses, Purpose Brewing & Cellars. Ruby Red Flowers Ale brewed with red beets and hibiscus flowers, and then dry hopped with whole red roses, rose buds, hibiscus flowers, and corn flower petals.
Yours Truly, Ninkasi Brewing. Brilliant in color, Yours Truly is crisp, and refreshingly effervescent. A dash of hops gives this beer a lightly floral, herbal, and fruity hop profile that subtly dances on the palate. Its sweetly-toasted malt profile carries notes of cracker, cereal, biscuit, and honey. With a smooth finish, Yours Truly leaves you ready for the next sip.
Common Interests, Epic Brewing. Collaboration with The Commons Brewery Mixed-fermentation ale with Oregon red wheat matured in first-use oak foeders and re-fermented with Colorado honeydew melons.
Red Velvet Cake (Nitro), Ballast Point. Like the cake that inspired it, the deep red color comes from beets, which add a rich, earthy character that complements the chocolate flavor and aroma. The foamy head of the nitro pour is "icing", adding a creamy smoothness to the mouthfeel. But this liquid dessert still finishes like a beer – not sweet, but just as satisfying.
If you're lucky, you won't leave empty handed…