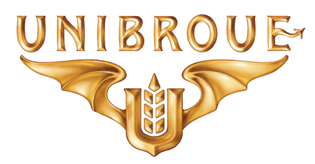 From the very beginning, Unibroue has carved out a special niche in the beer world with top quality products and a brand rooted deep in Quebec culture. It made history by becoming the first North American beer maker to use a brewing method inspired by the two-centuries-old tradition developed by Trappist monks in Europe—particularly in Belgium. Over the years, Unibroue has remained faithful to its origins even as it has grown to become an icon of the brewing world. Unibroue products take you on a journey filled with legends and fabulous tales.
1990
The Unibroue adventure began in 1990, when André Dion and Serge Racine decided to vie for a share of the fast-growing craft beer market. Mindful of the competition, their goal was to create a different product with strong consumer appeal. They became majority shareholders of La Brasserie Massawippi, a financially troubled Lennoxville brewery.
1991
André Dion and Serge Racine finalized their acquisition of La Brasserie Massawippi in late 1991 and merged with Unibroue in early 1992. The new company immediately established itself as a specialty brewer. Mr. Dion became the President and CEO, and Mr. Racine sat on the Board of Directors.
1992
Unibroue partnered with a Belgian brewer specializing in beer on lees and made history with the launch of Blanche de Chambly—North America's first abbey beer. That same year, Quebec singer-songwriter Robert Charlebois became one of Unibroue's major partners.
1993
Unibroue moved to a new, cutting-edge microbrewery in Chambly, Quebec. The brewery gradually started to build its export capacity by developing a distribution network throughout Quebec and across Canada.
1994
Unibroue began exporting its products to the international market by opening subsidiaries in the U.S. and Europe.
1995
In 1995 and 1996, major investments allowed Unibroue to increase production and expand its facilities. Its products became increasingly popular, capturing markets in British Columbia, Alberta, Ontario, New Brunswick, and several American states as well as France, Switzerland, and Belgium.
1997
Unibroue consolidated its reputation as a brewer of distinction by opening Le Fourquet-Fourchette, an innovative concept-based restaurant-museum on the shores of the Richelieu River that celebrates the fine art of drinking.
At this point, Unibroue also became a public corporation listed on the Toronto Stock Exchange.
1998-2000
Between 1998 and 2000, Unibroue responded to strong consumer demand for lager by introducing a new line of bottom fermented products, the refreshing and thirst-quenching U Blonde, U Rousse, U Miel, and La Bolduc.
2001
Brewmaster Paul Arnott joined the company in 1999. Trained in Belgium's great monastic brewing tradition, he helped breathe new life into the company's classic products and expanded the Unibroue family with new vintage beers and the Éphémère series of fruit-based beers.
2004
In 2004 the Sleeman Brewery became interested in the Quebec company's ultra-modern facilities and highly qualified labor force. After purchasing Unibroue, Sleeman renamed itself Sleeman Unibroue Inc. The merger gave the brewery a powerful presence right across Canada. Today iconic Quebec beers like Blanche de Chambly, La Maudite, and La Fin du Monde are readily available right across Canada.
2006
Another chapter in the story of the little Chambly-based brewery was written in October 2006 when Japan's oldest commercial brewer, Sapporo International, purchased Sleeman Unibroue. With their profound respect for art, tradition, and culture, the Japanese recognized Unibroue as a Canadian treasure to be cherished and shared with the entire world.