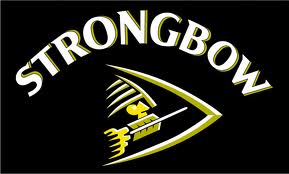 Strongbow is named after the Anglo-Norman knight Richard De Clare, later Earl of Pembroke, nicknamed "Strongbow" for relying heavily on archers within his battles, and for his keen interest and skill with a bow and arrow.
It's manufactured in England by H P Bulmer Limited and is the UK's number one cider, accounting for more than half of the cider sold in Britain. We produce it in Hereford, and were granted the Royal Warrant in 1911. Strongbow was launched back in 1962 and has been selling well ever since.
The cider is made from a blend of bitter-sweet cider and culinary apples making it a well rounded, balanced cider with a good mix of fresh apples and cidery flavours.
Enjoy it. You've earned it.


Strongbow

153 Pond Lane
Middlebury, VT 05753
Phone: 802-388-0700
Email: info@strongbowcider.us
Website: http://www.strongbow.com