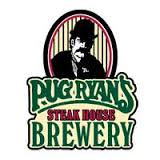 Pug Ryan's Brewing
Dillon, CO
Craft Brewery
Pug Ryan's Brewery was established in 1997. Our vision was to create a small craft brewery to compliment our steakhouse, and since its conception, the brewery has exceeded all our expectations. In May of 2012 we completed an expansion, adding three new 45 BBL fermentors and two 45 BBL serving tanks, more than doubling our capacity and allowing us to focus much more on seasonal specialty beers.
Dave Simmons, our head brewer, has focused on quality, brewing an assortment of beers to satisfy the most discriminating palate, including our wonderful Pallavicini Pilsner, a creamy Scottish Ale, a nice hoppy Pale Ale and Oatmeal Vanilla Stout , made with a bit of Belgian candy sugar and a tincture of honey, Jim Beam and hazelnut.
Our beer is available to go in growlers, and the Peacemaker Pilsner, Hideout Helles, and Deadeye Dunkel are sold in cans at many Colorado Liquor stores. See our list of stores to find cans near you.
We pride ourselves on being one of the finest craft breweries in Colorado, and we look forward to continued growth.
Our craft beer can be found on tap at restaurants throughout Colorado, and our cans are available in Summit County liquor stores as well as select liquor stores state-wide. As we look forward, we continue to expand the brewery and can distribution throughout Colorado. Join Pug's Posse to find out when our beer will be available in your home town.
WHY CANS?
We chose to can our beer instead of bottling our beer. Why? Because Colorado is about enjoying the great outdoors! Therefore, we wanted a package that could accommodate all the back country enthusiasts, sailors, rafters, campers and hikers.
Cans don't break like glass, are easier to recycle, are lighter, crush-able, and are allowed almost everywhere.
Cans do not let in light that spoils beer, so our beer stays fresher longer. Our decision to can was easy. Cans go everywhere just like our beer drinkers.
AWARD WINNING BREWS
Pug Ryan's is proud of the many awards we have received at various beer competitions. To date, we have won more than 18 medals. Our accomplishments include silver medals for the Peacemaker Pilsner from the Great American Beer Fest and the North American Beer Awards in 2009. The Scottish Ale won a gold medal at the 2008 Colorado State Fair and a silver medal at the 2011 NABA, and our Hideout Helles Bock won a silver medal at the Craft Brewers Fest and a Gold Medal at the 2010 Great American Beer Fest. Our award winning micro-brewed craft beers can compliment any dish on our menu  – with our selection of beers, we have a brew for everyone!
Pug Ryan's Brewing

104 Village Place
Dillon, CO 80435
Phone: (970) 468-2145
Email:
Website: http://pugryans.com/