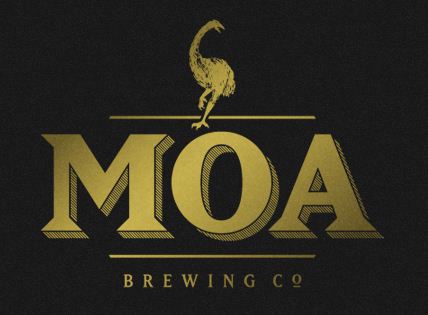 MOA (New Zealand)
Blenheim,
JOSH SCOTT
Josh Scott, founder of the Moa Brewing Company, is the son of renowned Marlborough winemaker Allan Scott, and is actually a qualified winemaker in his own right.
Interestingly, it turns out that he was never that interested in wine and is the only person ever to get pinged for running a bootleg beer operation whilst at boarding school, which at the time didn't impress his Dad too much.
These clandestine brewing efforts at Christ's College were the start of something however, so after leaving school Josh went offshore to gain experience "winemaking" in France, which impressed his Dad a lot. Of course the whole thing was a ruse with Josh spending most of his time milking those friendly Europeans of all their beer making secrets before fleeing to California's Napa Valley and doing the exact same thing to the Americans.
On his return to New Zealand in 1999 Josh became chief winemaker at Allan Scott Winemakers in Marlborough, but it wasn't long before Josh had leased facilities at a local Blenheim brewery to dedicate himself to what he actually liked doing, which was making beer – and so Moa was born.
On 13 June 2003, he laid down his very first commercial brew of Moa. To celebrate, he went out on the razz and met up with a young girl who later on became his wife.
So a pretty good day all round.
Things went swimmingly and by the early 2000s Moa had moved to its own brewery in Blenheim's Jackson Road and had accidentally become New Zealand's largest exporter of beer to the US. There was also a nice little restaurant next door to the brewery that made great chips but it burnt down a few years ago so now the brewery is next to some romantic looking rubble.
It was about this time that Josh had the good fortune of meeting David Nicholls, an ex-Heineken head brewer, at the Marlborough Wine and Food Festival. David was sampling Josh's beer, told him what he thought of it and there was nearly a punch up. Josh challenged David to do better and the following Monday morning David showed up and did just that. Rather than get all miffed, Josh spied a once in a lifetime bit of serendipity and asked David if he wanted to be part of Moa, which he did.
Since then Josh and David have created the award winning range of Moa beers as we know it today. They have a complementary, competitive and complex relationship that somehow led to them spooning each other in a hotel room after the NZ Brewing Awards dinner in 2009. They don't talk much about that much.
.
COMPANY BACKGROUND
When the Moa Brewery was built it was plonked between the vines in the world famous winemaking region of Marlborough, New Zealand, which isn't surprising considering the founder of Moa, Josh Scott, is a winemaker and according to him, "It takes a lot of beer to make a good wine". Conveniently, it's quite a nice place to live and provides the perfect environment for brewing.
The name "Moa" (New Zealand's giant dinosaur bird) also derives from the region, as in the early days Josh hand delivered brews to archaeologists working a Moa bone dig near the brewery. Even half-cut they found some Moa bones, so archaeology can't be that hard.
Moa Beer itself is brewed using traditional costly, inefficient and labour intensive techniques, with a focus on local ingredients, including internationally renowned New Zealand hops. It is rounded off through the use of winemaking techniques, like barrel ageing and bottle fermentation and conditioning (like they do with Champagne).
We could go out tomorrow and buy the same robots and machines that other breweries use instead of people. Machines that make beer syrup and inject fizz, machines that pump out 1,000 bottles a minute and zoom down those cool conveyers. But instead we invite grief into our lives by brewing the way beer used to be brewed 100 years ago.
We have won awards all over the world by brewing this way and have even heard people from far away places like Singapore, Oregon, Antarctica and Auckland exclaim, "Finally, something drinkable from Marlborough".
MOA (New Zealand)

Jacksons Road
Blenheim,
Phone: 03 5725146
Email: info@moabeer.co.nz
Website: http://www.moabeer.com/