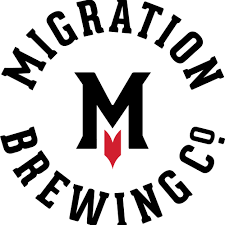 Migration Brewing
Porland, Oregon
THE JOURNEY OF MIGRATION BREWING
On a sunny day in the Fall of 2008, we found ourselves sharing beers and engrossed in a conversation that began about starting a business but quickly delved into personal values and visions of the future.  The four of us quickly realized that we shared more than a passion for great beer; we shared a value set about life and the role that beer plays in it.  A dream was born and the wheels were set in motion to open our flagship Glisan Street brewpub in early 2010.
The days were long and the sleep was short but year after the year our business grew through hard work and relationships.  Migration endeared itself to the local community through fundraisers, events and tireless self-distribution of draft kegs.  In the Spring of 2017 we signed with the largest beverage distributor on the west coast and the next chapter of the business began when we opened our 20,000sf Gresham production facility in 2018.  Over the past three years, the company has become one of the fastest growing breweries in Oregon with distribution in Oregon, Washington, California, Colorado, Nevada, Thailand, and Japan.
We believe that every beer we make has the power to ignite a conversation. To bring an idea to life. To bring people together.  We invite you to share in our values of community, chasing dreams and passion for great beer!