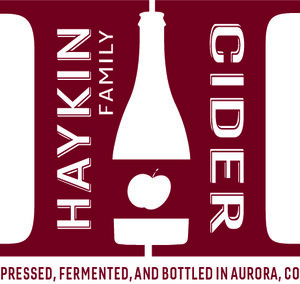 Haykin Family Ciders
Aurora , Colorado
Located five minutes from the Stanley Marketplace, the Haykin Family Cider Tasting Room is the perfect spot for drinks before or after a night out.
Haykin Family Cider opened in February 2018 and is located conveniently near Stapleton, Fitzsimons, and Stanley Marketplace. In addition to glasses and flights, the Tasting Room offers retail bottles and quite often, chats with the cider maker.
Haykin Family Cider is an award-winning small batch cidery run by husband and wife, Daniel and Talia Haykin. With tiny bubbles, they produce a sparkling wine-like cider in a variety of sweetness levels. Elevating the apple like wineries treat grapes, Haykin Family Cider highlights the flavor and complexity of interesting and unique apples.
With a higher carbonation than other products on the market and no adjuncts (sugar, flavorings, or other additives), the ciders from Haykin have been likened to sparkling wines. The process is similar to white wine making and the results are extraordinary! Haykin respects the apple and its inherent flavors, acidity, and sugars while letting hidden attributes bloom with the help of yeast. The majority of the ciders are single varietals (being made mainly from one apple variety) with a few cuvees or blends showing up on the menu from time to time.
All of our ciders are certified kosher with the Scroll K hecksher.