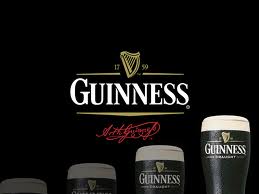 Guinness Brewery
Dublin 3, Ireland
1752 – Arthur Guinness is left £100 in the will of Archbishop Price. Three years later he sets up business as a brewer in Leixlip, County Kildare.
1757 – Construction begins on the Grand Canal at James's Street, Dublin, allowing access by water to Shannon Harbour and Limerick.
1759 – Arthur Guinness signs a 9,000 year lease on a disused brewery at St. James's Gate, Dublin for an initial £100 and an annual rent of £45.
1769 – The first export shipment of six-and-a-half barrels of Guinness beer leaves Dublin on a sailing vessel bound for England.
1799 – The last Dublin Ale is brewed at the brewery of Arthur Guinness – and the decision is made to concentrate solely on the production of porter.
1801 – West Indies Porter – a precursor to modern day GUINNESS® Foreign Extra Stout – is first brewed.
1803 – Arthur Guinness dies and his son, Arthur Guinness II, takes over ownership and management of the Brewery.
1830s – Output at the St. James's Gate brewery exceeds that of Beamish in Cork.
1850 – Sir Benjamin Lee Guinness, son of Arthur Guinness II, takes over the Brewery on the death of his father.
1868 – Sir Benjamin Lee Guinness dies and his son Edward Cecil takes over the Brewery. Under Edward Cecil, the size of the Brewery doubles.
1886 – The Guinness brewery becomes the first major brewery to be incorporated as a public company on the London Stock Exchange. It is the largest brewery in the world with an annual production of 1.2 million barrels.