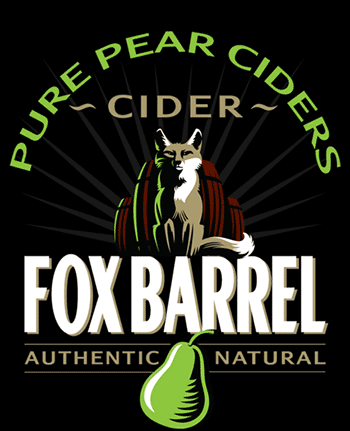 Fox Barrel Ciders Fermented from Pure Pear-Juice are deliciously light, but not too sweet, Fox Barrel ciders are made with pure-pear-juice using U.S. West Coast Pears.  Available in Pacific Pear, Apricot Pear, and Blackberry Pear flavors, Fox Barrel pear based ciders are naturally elegant, yet have a mouthwatering juice complexity and fresh pear bouquet.
America's first, truly pure pear-juice based cider line, Fox Barrel makes Pear Ciders that are naturally fermented using 100% pear juice, not from pear juice concentrate, or flavored hard apple cider. Our ciders are filtered cold for extra purity and our Blackberry Pear and Apricot Pear Ciders are infused with natural blackberry or apricot juice.  Fox Barrel contains no added colorants, sugar, sorbate or benzoate preservatives.  No added malt, spirit, grape or apple alcohols, Fox Barrel ciders are smoothed with pure pear juice.
Fox Barrel ciders are all Gluten Free for the wheat-intolerant person.