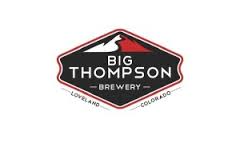 Big Thompson Brewing
Loveland, CO
Big Thompson Brewery serves craft beers in Loveland, Colorado. Specialty beers like the Dinky Beet Beer,Pumpkin Ale and Smoked Chipotle Porter and Pale Ale, IPA, and Lagers are available as well. Read more about our story in NEWS and find out how we began.
Thank you for your patience as we took time finding a great location, installing our equipment and encountered a patch of "white water action" with building delays. Our opening was a great success and we look forward to sharing our craft brews with everyone.
We've already received some nice reviews on our Facebook page about our beers and the business in general. Thanks for the kind words. We've reproduced a few here for our website visitors:

"This will be my new fave local hangout! The atmosphere is relaxed and welcoming and the brews are awesome!"  S. Stanley
"Visited the brewery twice since it opened with many more visits to come! Excellent beer and friendly staff — try their Black Lager… incredible! Centralized location in Loveland makes it easy to get to. Looking forward to many more great times at this fine establishment!" – D. Jones
"Awesome service, great beers, and very fun and relaxing atmosphere. If you haven't checked this place out, you definitively should!" – J. McCurry
The Geeks Who Drink will be here to test your knowledge of all things TRIVIA on October 27th at 7 pm. Bring your teams and your wit! Should be a very fun evening for sure.