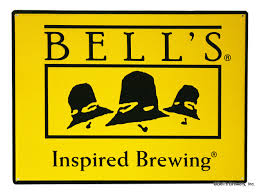 Bell's Brewery
Kalamazoo, MI
It started with
a 15-gallon soup pot
Founded by Larry Bell as a home brewing supply shop in 1983, Bell's Brewery, Inc. sold its first commercial beer in September 1985. Beer was initially brewed in a 15-gallon soup kettle and the company has grown remarkably from its production of 135 barrels (1 barrel = 31 gallons) in 1986 to over 310,000 barrels in 2014.
Originally self-distributed, Larry and his staff of 9 employees bottled and delivered all of the beer to market for the company's first four years. By 1989, Bell's was shipping more than 500 barrels annually and assigned its first wholesaler to further establish itself across the state of Michigan. In 1993, Bell's became the first Michigan brewery to open an onsite pub.
After struggling several years to produce and sell robust, full-bodied ales against a tide of a mass-mar­ket domestic beer, Bell's began to see the demand for craft beer grow dramatically and expanded into new markets. Bell's currently sells beer across a 20 state area in addition to Puerto Rico and Washington DC through a network of over 80 quality wholesalers.
In 2003, Bell's opened a new production brewery in nearby Comstock, Michigan about seven miles east of Kalamazoo. This facility has seen seven major additions since then and encompasses over 130,000 square feet of building on a 32-acre site.
Construction of a 200-barrel brewhouse began in April, 2011 and it officially opened on May 14, 2012. Fourteen 400-barrel fermentation tanks, new grain handling facilities and an employee care area were also added.
Beers are now brewed on a 50-barrel system and a newer 200-barrel system with a total annual capacity of more than 500,000 barrels. Bell's brews more than 20 beers for distribution.
In 2014, a canning line and twelve 800-barrel fermenters were added.
The Bell's Bio-Energy Building also came online in December 2014 to treat all process wastewater.
Despite repeated expansions at the main production facility, we haven't forgotten our roots and continue to brew at our original Kalamazoo location. Using the same equipment that served us so well for more than 20 years, this space has become home to several specialty projects, as well as brewing an extensive array of brands typically only available at the adjoining Eccentric Café.
The Eccentric Café
On June 11, 1993, Bell's Brewery became the first Michigan brewery to serve beer by the glass to the public. The Eccentric Café offers customers a chance to taste many of Bell's well known beers, as well as small batch brews that are not distributed outside of the pub. Visitors enjoy its warm atmosphere and spacious beer garden and patio. The Cafe also features interesting food, an extensive collection of art and ephemera, as well as live entertainment throughout the week (music, movies, theater, homebrew demonstrations and more).
In the beginning of 2010, renovations to the downtown Kalamazoo facility began with plans to make significant improvements to the existing Café and transform former warehouse space into a separate, dedicated, and state-of-the-art music venue.
The Cafe officially reopened on March 28, 2011, allowing us to host musicians and other entertainment acts from across the country. Renovations also included expanded restrooms, additional seating options, a transformed Beer Garden, a new patio and a new main entry way. [Take a look]
Future plans also include the addition of a Chicago-biased sports bar next to the Beer Garden where the General Store was originally located.
Logistics Center
Our Logistics Center, located in Galesburg near I-94, occupies a 30,000 square foot building that formerly housed Galesburg Frozen Foods. The building opened in October 2011 and is used to store packaged beer and serve as a pickup point for distributors.
Bell's General Store
Bell's gear, and home brewing supplies are available for sale in person (355 E. Kalamazoo Ave.) located adjacent to the Eccentric Cafe as well as online. The Store also sells a wide selection of Bell's beer to go, including growlers.
Between our four locations, including our corporate office just down the street from our Comstock Brewery, Bell's currently employs more than 440 people.
The Bell's Farm
Our 80-acre farm in Shepherd, Michigan, is located about an hour and a half north of Kalamazoo and has been a part of Bell's since 2008.
It is not only an investment in Michigan agriculture but also reflects our commitment to quality. We grow 2-row barley that is used in Midwestern Pale Ale, Christmas Ale and our Harvest Ale. Once harvested, the barley is then roasted and kilned by Briess Malt & Ingredients Co.
Upper Hand Brewery
On April 25, 2013, Upper Hand Brewery – a division of Bell's Brewery, Inc. – was officially announced. This new brewery is located in Escanaba, in Michigan's Upper Peninsula.
It officially opened in November 2014 and offers an entirely new and separate line of beers available both in bottles and on draught across the U.P.
Bell's Brewery

355 E. Kalamazoo Ave.
Kalamazoo, MI 49007
Phone: 269-382-2332
Email:
Website: http://bellsbeer.com/