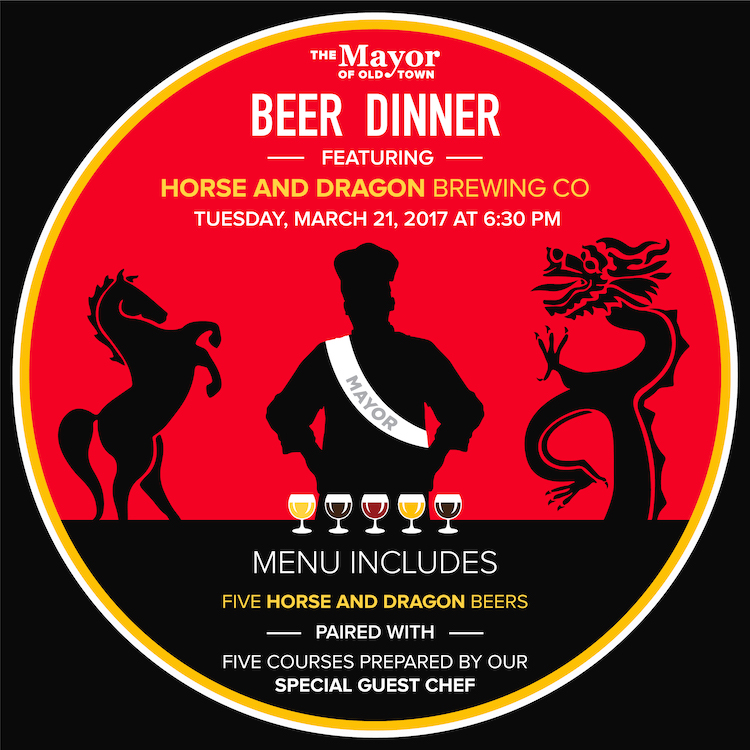 03/21/17: Mayor Beer Dinner with Horse & Dragon Brewing (26 Max)
March 21, 2017 — 6:30 p.m.
When: Tuesday March 21, 2017, — 6:30 p.m.
Event cost: Free!
The Mayor of Old Town is doing a beer dinner event on Tuesday, March 21st at 6:30 PM. Tickets will cost $65 per guest and will include tip and taxes (payment will be collected the night of). There are 26 seats available.
We are doing this event because we have a chance to work with one of the best breweries in Colorado! It is a pleasure to be able to work using their great beer to showcase our ability to go outside of The Mayor's everyday food realm and create awesome dishes you wouldn't normally expect.
The Mayor of Old Town is delighted to have a very talented guest chef, Landon Schoenefeld working with us on a two month guest stint. Landon has experience in working with many of the top chefs in America and has done beer dinners with many top names in the beer industry. Most notably having Garrett Oliver (a top beer and food pairing expert in the nation) come to his restaurant Haute Dish in Minneapolis, Minnesota to host a beer dinner event. The event will be held in the Brewer's Lounge.
Sign Up Here!